Getting rid of an Unwanted Tree
Don't know where to start? Cutting down these large statures can be a risky venture and should only be attempted by professional arborists with the right equipment, permits and skills. Most of the time you will also need to have Council Permission to remove a tree from your property. Shane's trees are experts in their field and can help you determine weather your tree qualifies for tree removal.
Some examples of situations where the council will give permission to remove a tree are as follows:
It is likely to cause substantial property damage to houses or buildings
There is substantial evidence that it is structurally unstable and there is a high degree of hazard (arborist report and testing may be required for significant trees)
It is causing substantial and continuing structural damage to a dwelling or structure (structural engineering assessment may be required)
If it is in poor and declining health (with a short life expectancy) and there are no options to mitigate the decline in health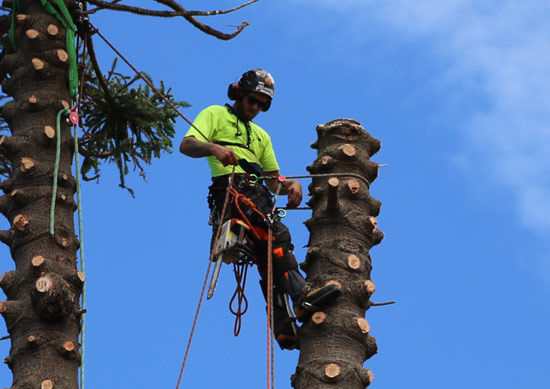 STUMP REMOVAL SYDNEY
After having a tree removed from your property there will always be a stump left in the ground. This is also true if you have a rotten or diseased tree blow over in strong winds or other circumstances. Anyone who tried to remove a stump before knows this is a very difficult task as digging it out is nearly impossible, thanks to an established tree root system and burning is not always possible. Our arborist's use a Stump Grinding machine for this task which is basically a large grinding flywheel connected to a powerful machine engine.
SHANE'S TREE REMOVAL SYDNEY
We offer professional tree removal services in Sydney, and have done so for the past 35 years. We have all the tools and equipment to tackle any size tree with any type of access constraints. Shane's Trees have qualified arborists and we only let experienced climbers carry out our tree lopping services. From Tree pruning, trimming, snipping, removal, crown raising and reduction, arborist reports, free wood chip delivery, quotes, and advice, you can't go past our team
Shane's Trees would love to help you with your arborist report. call us on 0422 927 381 Back